In honour of the International Day of Women and Girls in Science, which takes place each year in February, we would like to give a shout out to all the wonderful women of QBIN. Together, we are tearing down walls raised centuries ago, walls that have pushed women away from pursuing careers in STEM.
"Let us choose for ourselves our path in life, and let us try to strew that path with flowers."

Émilie du Châtelet, Natural Philosopher and Mathematician
While in recent years there have been numerous attempts at making science a more equitable place, the gender gap still remains a huge barrier that women have to face. It is as if a seed was planted long ago in an unfriendly soil and it is getting now salvaged by turning the soil into a healthier and fertile place. It is only with good care and time that one will be able to appreciate the yield. While we don't have control over time, we can actively partake in taking good care of our future flower.
Surrounding ourselves with supportive mentors and seeking out female role models are the first steps towards a more equitable academia. Being active mentors and role models ourselves to younger generations of girls helps perpetuate the idea that a scientist is a just human being with a thirst for knowledge and an overflowing, contagious passion.
On February 11th, the 6th edition of the Women and Girls in Science event took place at the Montreal Science Centre to celebrate the International Day of Women and Girls in Science. Every year, the Science Centre reaches out to various scientific organizations and institutions to organize a full day of activities for children around STEM topics.
I used to volunteer with The Neuro before COVID hit, and this year I was fortunate enough to be able to lead my own activities, thanks to the support of The Neuro and QBIN. Almost 4000 kids came by and this genuinely warmed my heart. They were so eager to learn and play with me. We built brain models with clay, formed neurons with pipe cleaners, observed brain organoids on the microscope and played card games to learn about brain connectivity. One girl in particular wanted to use pipe cleaners to build flowers – now you understand where I got the analogy above from – and didn't really care about what else was going on. She was so persistent that, after sadly turning her down, she came back to me with another 10 friends all wanting to make flowers. And we did. We made a whole garden that hopefully will sow seeds in their minds, inspiring them to become the next generation of women in science.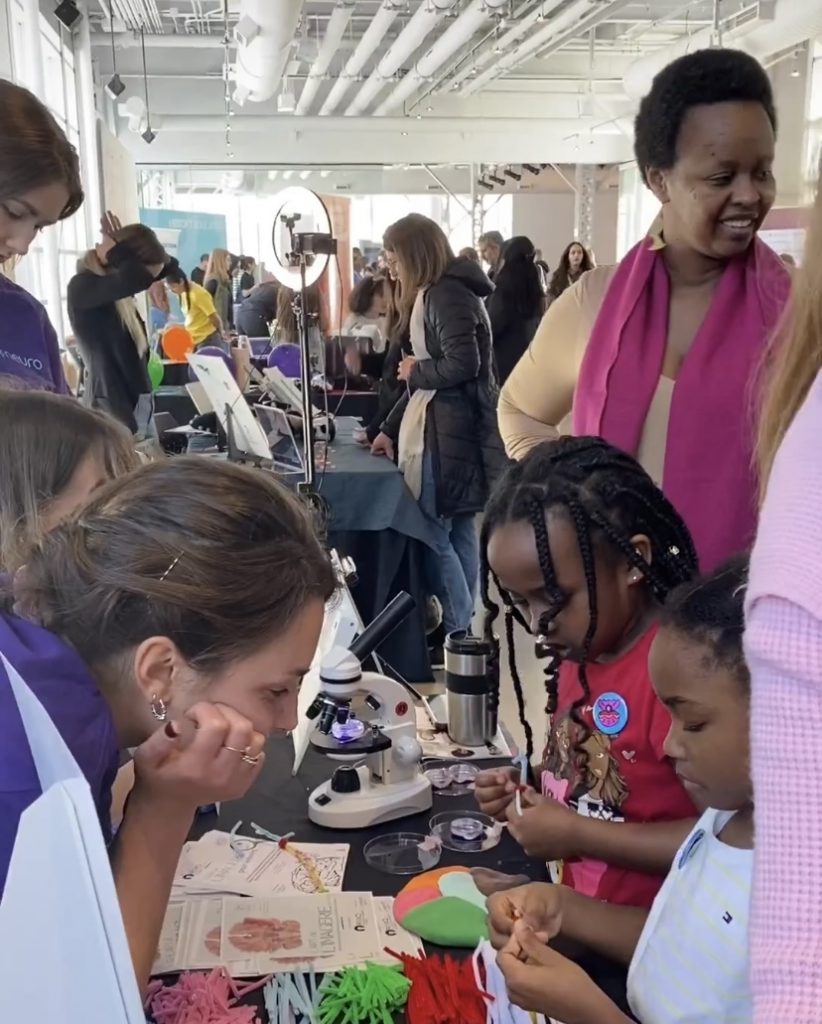 Giulia Baracchini is a PhD student in neuroscience at the Montreal Neurological Institute at McGill University. Her research interests lie in understanding mechanisms of inter-regional communication in the brain and their behavioural relevance, particularly in the context of cognitive control. Specifically, she is investigating whether and how large-scale network architecture interacts with BOLD signal variability patterns, in healthy aging and preclinical Alzheimer's populations.