Have you ever wondered how and why we should think about sex AND gender when conducting research? Join Rachel Buckley, Jason Flatt, and I today as we question ourselves on these important subjects in the field of neuroimaging. We discuss topics from how to define sex and gender to discussing interesting results. This conversation denotes the importance of continuing this dialogue and including people from different fields in and outside of academia to gain a holistic view on sex and gender.
If you are interested in discussing your topic through the QBIN podcast, email me at bery.mohammediyan@mail.mcgill.ca .
Note: This podcast is in English. English and French subtitles are available to select through the settings in the bottom righthand corner of the YouTube player.
Audio editing by Béry Mohammediyan and Gerti Quku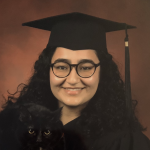 Béry Mohammediyan is a Master's Student in psychiatry at McGill University where she explores sleep and Alzheimer's Disease in the Villeneuve Lab. Her research project focuses on sleep disturbances during the preclinical phases of Alzheimer's disease and how they are associated to Alzheimer's Disease pathology, amyloid and tau, measured with position emission tomography. As a QBIN writer, Béry hopes to write interesting and fun articles and to propagate her passion for science to encourage people to engage with neuroscience and bio-imaging.