On the fourth episode of the QBIN podcast I had the opportunity to talk with our 2023 William Feindel Lecturer, Dr. Sandra Black. Through this podcast we explored Dr. Black's career of many decades, and her views on research and patient care. Along the conversation we also talked about what it meant and what it currently means to be a woman in research, and about the changes in research due to the pandemic. We ended by talking about Dr. Black's passion for piano and music, and her tips and tricks to have a better cardiovascular health.
If you like this format and you want to talk about science, do not hesitate to contact me to participate in a podcast episode!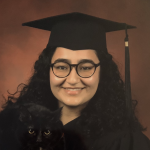 Béry Mohammediyan is a Master's Student in psychiatry at McGill University where she explores sleep and Alzheimer's Disease in the Villeneuve Lab. Her research project focuses on sleep disturbances during the preclinical phases of Alzheimer's disease and how they are associated to Alzheimer's Disease pathology, amyloid and tau, measured with position emission tomography. As a QBIN writer, Béry hopes to write interesting and fun articles and to propagate her passion for science to encourage people to engage with neuroscience and bio-imaging.