For our second episode of the QBIN podcast (in French), I discussed with this year's recipient of the Rising Star in Bio-imaging in Quebec Award, Doctor Matthieu Pelletier-Galarneau. We talked about Doctor Pelletier-Galarneau's career and his mentors along the way. We continued with a discussion on important themes in academia, such as failing and the future challenges of science. Finally, we ended by exploring unique and fun characteristics of Doctor Pelletier-Galarneau, and tips to promote cardiovascular health.
If you wish to learn more about lifestyle factors that are beneficial for a good cardiovascular health Doctor Pelletier-Galarneau recommends Doctor Martin Juneau's book: Un cœur pour la vie : prévention cardiovasculaire globale.
If you are a scientist and you enjoyed this format do not hesitate to contact me to be part of the future episodes of the QBIN podcast. Please contact me at this email: bery.mohammediyan@mail.mcgill.ca
Audio edited by Bery Mohammediyan and Gerti Quku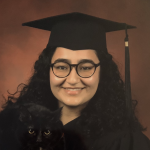 Béry Mohammediyan is a Master's Student in psychiatry at McGill University where she explores sleep and Alzheimer's Disease in the Villeneuve Lab. Her research project focuses on sleep disturbances during the preclinical phases of Alzheimer's disease and how they are associated to Alzheimer's Disease pathology, amyloid and tau, measured with position emission tomography. As a QBIN writer, Béry hopes to write interesting and fun articles and to propagate her passion for science to encourage people to engage with neuroscience and bio-imaging.