In this third episode of the QBIN podcast (in French), we talk about sleep and neuroimaging with postdoctoral researchers Claire André and Valentin Ourry. Through this conversation we explore how sleep is related to different physical, emotional, and cognitive processes. We also discussed how positron emission tomography scans (PET), magnetic resonance imaging scans (MRI) and electroencephalograms have helped us understand sleep and its relation to overall health and the processes of aging. André and Ourry teach us what it means to have good sleep and how that can have positive impacts in our lives. We also discuss how sleep deprivation is glamorized in society and how that can impair our performance. I hope you will enjoy our anecdotes related to sleep throughout the podcast!
If you liked this format and you would like to talk about science, contact me (bery.mohammediyan@mail.mcgill.ca)!
Resources:
https://sleeponitcanada.ca
https://www.who.int/publications/i/item/9789241550536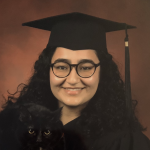 Béry Mohammediyan is a Master's Student in psychiatry at McGill University where she explores sleep and Alzheimer's Disease in the Villeneuve Lab. Her research project focuses on sleep disturbances during the preclinical phases of Alzheimer's disease and how they are associated to Alzheimer's Disease pathology, amyloid and tau, measured with position emission tomography. As a QBIN writer, Béry hopes to write interesting and fun articles and to propagate her passion for science to encourage people to engage with neuroscience and bio-imaging.